This is a Mohawk cut with the sides of the head not shaven. Men and women may wear this style alike. Woman can carry this look with long hair and men should ideally have short hair.
This style with long hair lends itself to a look that is both classic and rock and roll punk flavor because of the hair being swept upwards on the sides of the head.
In order to achieve this you will need: hair styling product, gel or paste, a fine tooth comb and a bristle brush.
It is important to not wash your hair before attempting this look. Soft and fine hair must most certainly not be washed. Application of the styling product to your hair on the sides of your head must be done using the palms of your hands. For best results use styling glue or paste.
Make a high ponytail with the bristle brush with two thirds of your hair on top of your head. The hair that forms the hairline on your forehead should be excluded from the ponytail.
Under the ponytail, you must make another ponytail with the lower section of your hair, then tease the hair in front of your head with a fine tooth comb in order to create volume. This gives the height in the faux-hawk. Softly brush your hair backwards whilst smoothing the front section. Bobby pins can be used to hold this hair in place.
Once this look has been achieved, strong hair spray should be applied in order to hold the hair in place. Check that the back of the head is okay with a mirror.
Short hair follows a similar process, using hands to make the hair straight. Thin hair should be teased in order to create volume and hair can be smoothed with a blow dryer and or a curling iron. This is the way to create the faux hawk mullet look.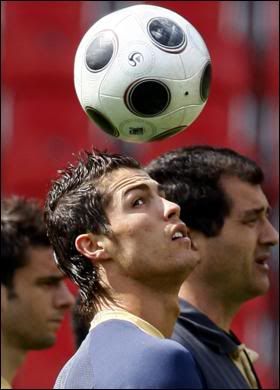 Cristiano Ronaldo MullHawk (mullet hawk)